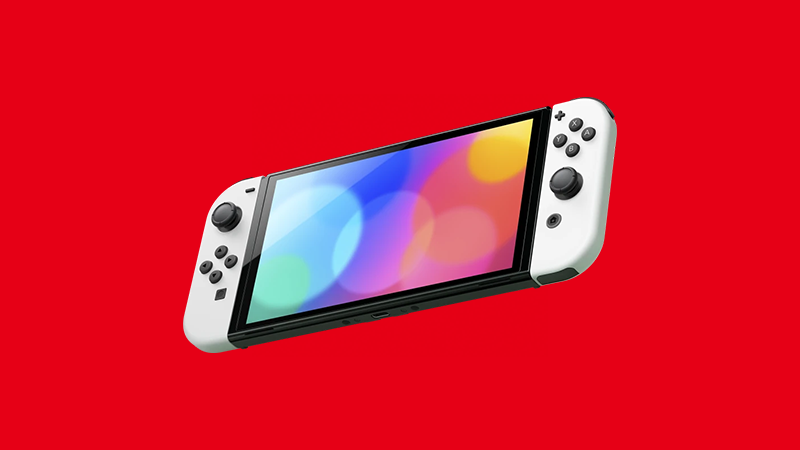 [The GameDiscoverCo game discovery newsletter is written by 'how people find your game' expert & company founder Simon Carless, and is a regular look at how people discover and buy video games in the 2020s.]
Welcome to the second free GameDiscoverCo newsletter this week, starship captains and first officers. We'll use the transporter room to beam to the Nintendo galaxy, visit the 'game expectations' monolith, and dive into the 'too much news' parallel universe.
Estimating the top Switch games for 2022 so far?
Every day, GameDiscoverCo wakes up and asks – what information do we want to know that platforms do a poor job of exposing to us? And sure, there are more transparent platforms, such as Steam – and way less transparent ones, such as Switch.
Since Switch lacks public achievement profiles, CCU info, or user reviews, much of what we can extrapolate about it is from the limited ranking data available on-device on the eShop. But all is not lost! Let us demonstrate.
For GameDiscoverCo Plus, our data nerd Alejandro manually grabs info on the Top 30 'recent' third-party games on the Switch U.S. eShop, such as Monster Hunter Rise: Sunbreak (above) – alongside its overall ranking in 'most-downloaded Switch games over the past 14 days'.
This allows us to differentiate low-selling and high-selling #1s & how they ranked compared to 'evergreen' F2P downloads like Fortnite, Apex Legends and Rocket League. And that's how we compiled the below chart which is our view on the top new third-party Switch games of H1 2022: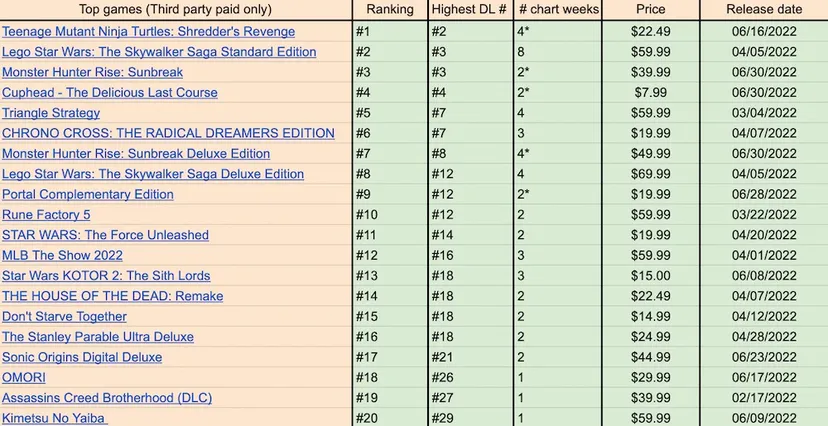 So this lists 'the highest download ranking on the U.S. eShop', and the number of weeks that the game stayed in the Top 30 of all downloads on Switch. (If the 'chart weeks' column has a * by it, the game is still in the Top 30 right now.)
What do we see here? Some impressions on the trends:
Success is being driven by licensed games & continued franchises: perhaps not surprising, but licenses (Star Wars, TMNT, MLB) and game follow-ups or DLC (Monster Hunter, Cuphead, Rune Factory) dominate the top games here.
'Games coming to Switch late' can still crush it: rebooting The Stanley Parable and bringing to consoles worked. Bringing Portal to Switch many years – after all the other versions – worked. Even the Chrono Cross remaster 'worked'. People will pick up another copy of a game for Switch, if a huge enough profile.
Brand new indie IP isn't getting higher up the charts – unless very Nintendo-y: OMORI – already a smash on PC and a very Nintendo-friendly Earthbound-influenced JRPG – is one of a handful to make it as a new franchise. (Triangle Strategy is new too, but is from the Bravely Default & Octopath Traveler director and has a big Fire Emblem influence – lots of Nintendo-y heritage.)
Maybe this is a little depressing for smaller indies? But that's how it seems to be right now on the platform. The other unspoken message here is that it's Nintendo's platform, third-parties just happen to live on it. Let's add first parties to the Top 10:

So yep, all those $60 Nintendo games are killing it, digital sales and revenue-wise. And if you look at Nintendo's most recent yearly results (.PDF), 78.8% of all Nintendo software revenue is listed as being first-party. That's quite a bit higher than Sony or Microsoft's tallies on their own platforms.
As for how many units these third-party games are selling: your guess is a good as ours. We can see official numbers for some lower-selling first party games as a partial benchmark: WarioWare: Get It Together for Switch sold 1.27 million units across physical and digital from Sept. 2021 to April 2022.
And we know Triangle Strategy sold 800k units in its first couple of weeks. So perhaps games higher up these 'Top 30 of H1' charts will be selling higher hundreds of thousands of copies or even 1-2 million over time on Switch specifically. And the ones lower down will be in the low hundreds of thousands? (Further down the spiral: the 'average decent title' on Switch in 2022 can often sell single digit thousands.)
Anyhow, that's some partial context as to what non-Nintendo games are actually doing well on the platform nowadays. Hope it helps, and good luck with your titles.
[We're GameDiscoverCo, an agency based around one simple issue: how do players find, buy and enjoy your premium PC or console game? We run the newsletter you're reading, and provide consulting services for publishers, funds, and other smart game industry folks.